September 11th – In Memorium
Posted by The NCCFT Executive Committee
Earlier today, at Nassau Community College's 9/11 Memorial Ceremony, NCCFT President Frank Frisenda made this statement: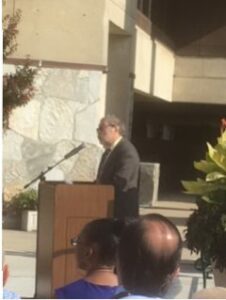 It was a sunny Tuesday morning. Summer break was over and the Fall semester was just getting under way.  I had just started waking up my class of freshman students, who were full of wonder and hope for their new endeavor.  I remember the Department Chairperson entering the class and announcing that there was a report of a plane hitting the World Trade Center in New York City.  It seemed an odd announcement, yet with smartphones and wi-fi yet to become available, we continued class. A short time later the Chair returned saying a second plane hit the World Trade Center and the college was cancelling classes. The world had instantly changed along with the wonder and hope in the faces of those students. In four separate attacks, 19 members of al-Qaeda hijacking 4 US airplanes killed almost 3,000 innocent people from over 50 nations in New York, Pennsylvania and Washington DC.  The world we knew no longer existed.
There were many heroes that day. The first responders who rushed to the different scenes, the civilians who helped each other in the chaos and the passengers of United flight 93 whose intervention forced that plane away from Washington and crashed into an empty field in Shankesville, Pennsylvania.
The iconic images of those attacks, the heroism of people in and out of uniform, the spirit of humanity to pick themselves up after this horrific event and rebuild the World Trade Center, Pentagon and deal with the aftermath are etched forever in our memory.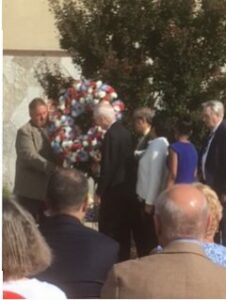 These attacks also ushered in a new understanding of the world, the suffering, the injustice, the diversity, complexity and need to come together as one human race. Yet, attacks on African-American church-goers, the LGBTQ community, domestic military bases, police, elected officials, assembled peoples and even innocent children continue. We are better than this. We cannot lose our compassion in times of pain and suffering, in times of joy, in times of political upheaval or economic crisis.
Evil is allowed to exist not only because of evil people doing evil things, but because of good people doing nothing to prevent it. Let us remember the sacrifices of good people, let us remember everything and act.
In this spirit of President Frisenda's statement, we'd like to share with you this poem by Nobel Laureate Wisław Szymborska, translated by Clare Cavanagh:
Photograph from September 11
They jumped from the burning floors—
one, two, a few more,
higher, lower.
The photograph halted them in life,
and now keeps them
above the earth toward the earth.
Each is still complete,
with a particular face
and blood well hidden.
There's enough time
for hair to come loose,
for keys and coins
to fall from pockets.
They're still within the air's reach,
within the compass of places
that have just now opened.
I can do only two things for them—
describe this flight
and not add a last line.
Wisława Szymborska, "Photograph from September 11" from Monologue of a Dog. Copyright © 2005 by Wisława Szymborska.