The NCCFT Wins Four NYSUT Communications Awards!
Posted by The NCCFT Executive Committee
On August 12th, 2017, NCCFT Secretary Richard Newman traveled to NYSUT Headquarters near Albany to accept on our behalf four "Awards of Distinction" at NYSUT's 2017 Communications Awards ceremony.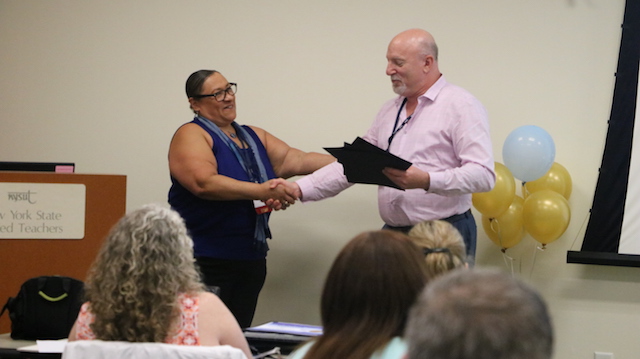 We won in three categories: Best Website, Best Blog, Best Article about Local or Chapter Issues.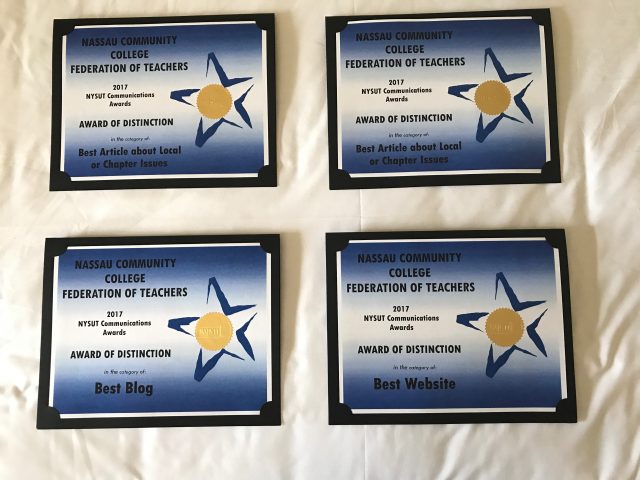 About our website, the judges said the following: "This is a website to take seriously… A lot of good information and connection to resources via this site." Thanks and kudos to Jeff Gross in our IT Department for designing and maintaining the site.
About our blog, the judges said the following: "This blog has lots of appeal. First, it gives timely news reports and…an overall clear, easy-to-follow design. It's…overall style…says NOW and [it] has vivid, sophisticated and elegant graphics that feel like they belong." Thanks and kudos to NCCFT Secretary Richard Newman, who has worked hard to turn our blog into an active forum for communication and discussion.
Secretary Newman's writing earned an "Award of Distinction" for the two part series he posted back in July 2016, called "Why Nassau Community College Needs an Independent Middle States Consultant" (1 & 2). The judges had this to say: "A strong and comprehensive analysis of a complex and relevant issue…This is clearly a campus and faculty in serious trouble and caught up in a toxic political environment… Some very important and relevant information here about a significant challenge for the school that affects everyone."
While these awards recognize, and we all should celebrate, Jeff Gross' and Secretary Newman's individual accomplishments, they also demonstrate the strength and value of our ongoing commitment to keeping you informed about the issues that matter. We look forward to deepening that commitment in the coming years.